Karli West, a bagger from Macey's grocery store in Provo, Utah took first place at the National Grocers Association's best bagger competition on February 27, 2023, in Las Vegas, Nevada.
Karli battled against top baggers from around the nation in an intense, but fun-filled event. As a reward for her impressive finish, West received a $10,000 cash prize and a trophy. West is the fifth bagger from Macey's to win the national competition since 2005.
"I'm really excited about winning," said Karli. "At Macey's, we work really hard and I'm happy I can represent the state and my store on the national level. I really enjoy bagging and want to make sure people get their groceries home safely. Also, baggers are the last impression guests have of our store and it's fun to be a happy part of making their day enjoyable."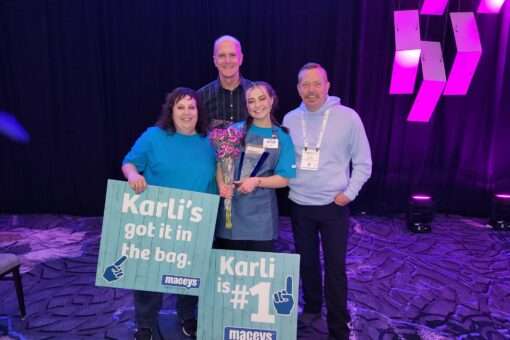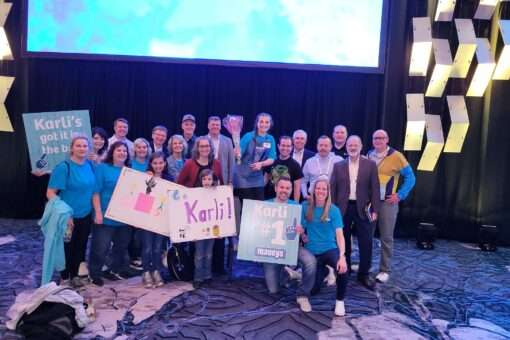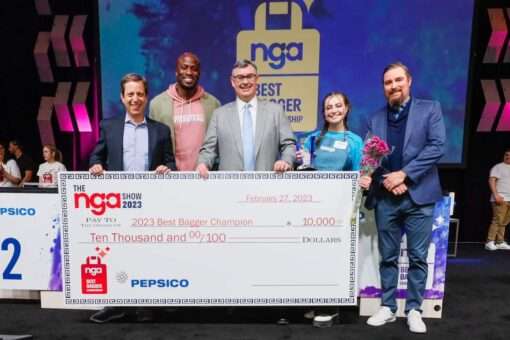 Karli, who is part of the eCommerce team at the Provo store, had a tremendous support team including her family at the event. CEO David Rice, COO Roger White, Vice Presidents Tim Conner, Wade Judd, Greg Welling and District Manager Steve Skinner all supported Karli at the event. Karli's store director, Dave Fischer cheered her on as did Front-End Manager Sue Lensch. CRM team members Candice Fischer, Amber Condi, LoriAnn Tanner and Brandon Allred were also on hand to cheer and capture video and photos. Karli expressed gratitude to Pamela Canca, her ecommerce manager and trainer, as well. 
Judges and fans were incredibly impressed with Karli's cool and collected approach to the event. She smiled, waved and danced during the competition even when a few surprises arose. 
"During the first round, there were fewer items than I had practiced with," said Karli. "You might think that would make it easier but it kind of threw me for a loop at the beginning." 
Despite the challenges, Karli received high marks from judges. During the competition, baggers are judged and receive points in four areas: speed (10 points), proper bag building technique (10 points), distribution of weight between bags (5 points), style, attitude and appearance (5 points). 
Karli, who has worked at Macey's for three years, received especially high marks for her bagging technique as well as weight distribution. Her fun personality also helped score important style points. 
"The coaching and mentoring our team members receive is phenomenal," said Dave. "Our stores provide an atmosphere where team members can be successful at work and develop a pattern of accomplishment for life."