Fondant-Based Elk Teeth? Wyoming Baker Says, "Absolutely!"
For Rosie Norris, an appreciation for art, baking and her community comes naturally. As the bakery manager at Hines General Store in Fort Washakie, Wyoming, Rosie blends her passions by producing scratch-made cakes that not only leave customers in awe but might also find a home in an art gallery. 
Most recently, Rosie has worked at Hines General Store for over four years. However, her cake-decorating prowess began about a decade earlier. She worked for Hines and attended an Associated Food Stores-sponsored decorating training session in Billings, Montana. From there, she mixed training with talent and hard work to refine her craft.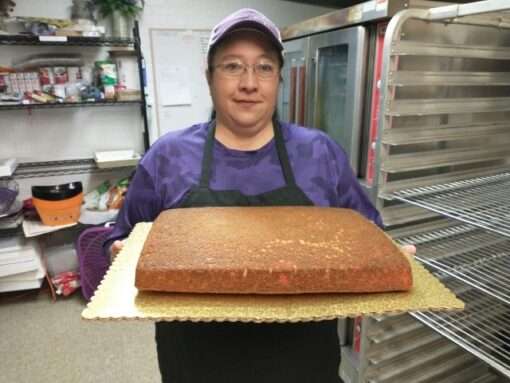 "Cakes I decorate are primarily custom requests," said Rosie. "The majority of them are beaded and can take up to two hours to create. Many times, customers bring in a picture and ask me to create something similar. I really like being unique and I want my customers to buy something that's one of a kind so no one else has anything quite like it." 
One look at Rosie's cakes demonstrate she's achieving her goal. A wedding cake Rosie completed not long ago highlights her skills. The three-tiered cake features antlers and 136 faux elk teeth created from fondant and then airbrushed to perfection. 
"It was just what the customers wanted," said Rosie. "I enjoy making them happy." 
As the Hines General Store is on the Wind River Reservation, many of the orders Rosie receives feature Native American themes including drums, eagles and jewelry. She has had customers drive five to six hours to purchase her masterpieces and gladly pay for her wonderful work. Rosie's fully beaded sheet cakes sell for $150 with half and quarter-sheet cakes costing $75 and $40 respectively. 
"She puts her heart into every cake she makes," said June Hagadone, sales specialist, AFS. "People bring in a picture and she can make it. She free-hands them, using the star tip. It is beautiful work."  
Rosie is grateful for the support she receives from Associated Food Stores. The training she completed years ago and the assistance she gets today contribute to her success.
"Associated helps me get the ingredients I need when I need them and saves me time with all they do to help," Rosie said.  
"We're lucky to have her," said Storeowner Ben Hines. "She brings in a lot of business. People come from all over to purchase her work."