Countdown to Case Lot – Distribution Center Edition 
Successful case lot sales are a great example of "One Associated" as it takes cooperation from nearly every team as Associated Food Stores and member retailers. To get an inside look at a critical element, Team News met with leaders at the Farr West Distribution center to get a detailed view of their role in case lot. 
Preparation for the much-anticipated two-week case lot sale at the Farr West Distribution Center takes up to four weeks. Most of the preparation happens within the logistics, transportation and receiving departments. Dedicated team members in these areas work extra hours to make sure this event comes together seamlessly.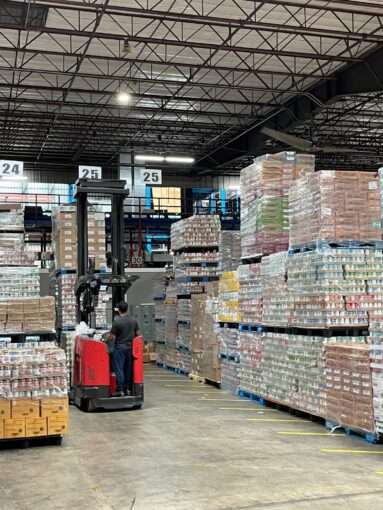 Below is a high-level outline of how it all comes together: 
Retailers submit the committed case lot orders at the end of December with the first orders being shipping mid-February. 

 

Routing reviews and determines if the order can fit on their normal delivery load or if they will require a dedicated case-lot route. 

 

Orders determined large enough for a dedicated route are moved into the "CL" order type, to prevent them from being released with normal weekly deliveries. 

 

If it is determined a store needs a dedicated route, they might be paired with another store order in the same geographical area to create one full dedicated case lot route. Doing this helps alleviate any additional strain on production and transportation labor which could negatively impact service levels. 

 

Routing then determines the quantity of extra tractors, trailers, equipment, and drivers that are needed to cover this increase in load volume, without impacting day-to-day deliveries. 

 

To prepare the store, every retailer participating in a dedicated case lot route is contacted to ensure they have the capacity to accept this delivery. This step is the most time-consuming and takes a minimum of 40 hours. 

 

Once the deliveries have been confirmed and scheduled, it's now time to determine what will ship on each load, down to the individual item level and account for the shortest pick path to keep similar items together. 

 

Routing then recaps the details to share with the Commits Coordination team, shipping, transportation, and Yard Management team. 

 
Overtime  
Overtime is a crucial component of case lot planning at the distribution center. This year is particularly challenging as the distribution center is down 53 team members. Most of the overtime comes from the drivers who must accommodate 160 – 200 additional deliveries in just four weeks, which equates to over 600 hours or two-three extra trips for every driver.  
The warehouse average UPH is 175 cases/hour. Case lot adds an additional 80 thousand cases during the two-week event, which equates to nine additional team members each day for five hours or 225 additional hours of overtime.  
Staging  
Eight to ten store case lot pre-pull orders are staged on the dock until a trailer is available. Staging is on hold until those orders are loaded, then they can continue to stage additional stores.  
Celebration  
Once the sale is over, the team celebrates with much-needed time off and recognition for their hard work.