ARO Partners with State Leaders on Safety Effort at Macey's in Murray 
Macey's in Murray became the centerpiece for an important collaboration effort with state leaders, to reinforce firework safety leading up to Pioneer Day celebrations. 
A press conference, featuring representatives from the Utah Department of Natural Resources, Bureau of Land Management, Murray City Fire Department, and of course, Macey's, was held at the Murray store on July 21 at 10 a.m.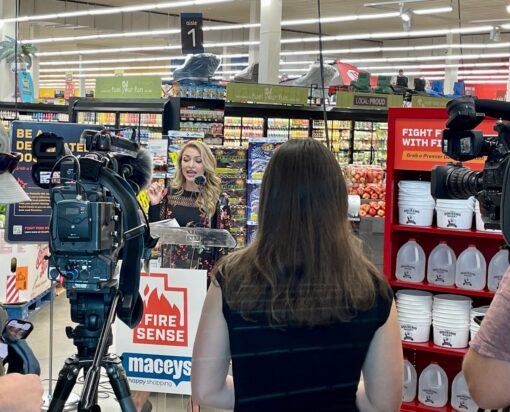 Sam Grant, store director, and his team had the store looking great for the many news outlets that attended. KSL, KUTV, FOX 13, KTVX and others were there to cover the event. Darin Peirce, vice president of ARO, and Sarah Pettit from the AFS marketing and communications team were also there with Sarah speaking on behalf of Macey's. 
The press event allowed Associated Retail Operations (ARO) to emphasize its support of responsible fireworks usage and encourage those who choose to celebrate patriotic festivities with fireworks to use the utmost care, caution and responsibility, igniting them in approved areas, during approved times and with proper extinguishing methods. 
"This is critical message for our guests to understand," said Mike Cameron, center store sales manager. "As a community grocer, we aim to provide our guests with products and information they want and need to celebrate safely. We are grateful to be part of this worthwhile effort and appreciate the support we've received throughout the organization." 
As part of the initiative, Macey's stores each received 150 branded dousing buckets to give to customers who purchased TNT fireworks leading up to the holiday. Buckets included the "Fire Sense" logo and were provided, free of charge, through the state program. 
In addition to the buckets for the Macey's locations, all AFS members and ARO stores in Utah received two iron-man signs to emphasize the importance of fireworks safety. Signs were provided through the state program. Signs were made available for purchase to AFS member stores in surrounding states. 
The AFS marketing team coordinated to highlight the important message on ARO store websites, in-store radio, as well as checkstand and breakroom screens.