Board of Directors Approves Major Distribution Center Enhancement
Following several intense meetings and months of in-depth review, the Associated Food Stores' Board of Directors approved budget for AFS to move forward with its distribution center modernization initiative. The project aims to ensure the Farr West Distribution Center remains a full-service, state-of-the-art facility both now and in the future with automation playing an integral role in the revolutionary project.
Pending final due diligence AFS is completing with the system provider and local contractors, final plans will be solidified and work will begin. (See upcoming updates for an overview of the entire project's estimated timeline.)
As part of the latest Associated Food Stores' Board of Directors' meetings, members of the AFS board met at the Farr West Distribution Center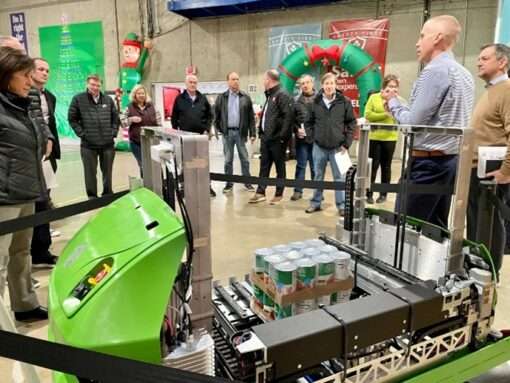 to review final details about the extensive project that seeks to deliver a long-term competitive source of supply for all members of AFS.
The board met with CEO David Rice, COO Roger White, Glen Keysaw, vice president of distribution, Justin Johnson, distribution center general manager and other company executives to review the plan, budget, pro forma and to tour the facility.
Representatives from Symbotic, a leading provider of cutting-edge robotics and automation technology, met with the board to introduce the system, highlight key benefits and answer questions. Symbotic is a revolutionary A.I.-enabled technology platform for the supply chain used by some of the world's top retailers including Walmart.
"We take all the investments we make on behalf of our members very seriously," said Chip Atkinson, board chair. "The distribution and corporate center teams have done a tremendous job in researching, planning and outlining the project and we are confident it will provide a long-term payoff as we proceed."
Warehouse modernization through automation and other efforts will improve quality of life for team members throughout "One Associated." It also positions Associated Food Stores to remain one of the premier grocery wholesalers in the nation as the company services more than 400 independent retailers across the Mountain West.
Warehouse modernization leads to important benefits throughout the company including:
Increased speed, accuracy, and efficiency throughout the organization.
Reduced workload and stress on the distribution team.
Enhanced ability to meet the increasing demands of retailers and their customers.
Improved efficiency for retail team members. As an example, pallets will arrive based on store schematic to save both time and labor expenses.
In short, warehouse modernization helps the entire company succeed.
"We are so appreciative of the board of directors for their confidence and trust," said David. "The project will take approximately two years to complete. It will necessitate flexibility and patience from retailers and the AFS team. However, I'm certain the entire company and its retailer owners will be better positioned for future success because of the decisions we are making now."
Retailers and team member are encouraged to visit the "Warehouse Modernization" section of StoreLink to stay updated on progress.