For the past 25 years, one man has conjured enchantment in his neighborhood every Halloween season. His name is David Llewellyn and he is the lead system administrator in AFS' Information Technology department. His expansive annual yard display, known as Raven Manor, has become a beloved tradition for locals, offering a delightful blend of inspired magic, eerie atmosphere and family-friendly fun.
David's journey to transform his yard into a Halloween wonderland begins just ten days before October 31. In a labor of love that lasts four days, he dedicates his time and energy to create a spectacle that captivates all who visit.
With a treasure trove of materials stored in his garage, David is ready to breathe life into his Halloween vision. Homemade decorations, props, and an array of technology-based features find their home in David's DIY wonderland.
David's Halloween yard display has garnered a dedicated following over the years. On Halloween night, it becomes a bustling hub for around 350 trick-or-treaters and a steady stream of cars filled with new and repeat visitors, who witness the magic he creates. He also has over 3,000 followers on Facebook and a website dedicated to his ghost-filled garden.
What sets David's display apart is its undeniable Disney flair. Many of his decorations bear a striking resemblance to those found in Disney's theme parks. The quivering caretaker and the floating candelabra evoke a sense of Disney enchantment, creating an atmosphere reminiscent of the Haunted Mansion ride.
Central to the spectacle are projectors and TVs that David has carefully integrated. The investment of time and money in these technologies has paid off, elevating the spookiness of his yard to another level. The 55-inch TV above his front door provides the perfect canvas for displaying Halloween Moon and Halloween Window decorations, enchanting those who pass by.
David's creativity extends to the Pepper's Ghost effect, a technique commonly used in Disney's Haunted Mansion. By using a large piece of plexiglass and a 65-inch television he brings decorations from AtmosFX, such as "Ghostly Apparitions" to life. The animated spirits reflect off the plexiglass, creating the illusion that the ghosts are hovering inside his house, just like the magic you'd find in Disney's Haunted Mansion.
His yard display features a cemetery gate and fence that is all homemade.  There's also a life-size "Flying-Crank-Ghost" named Eleanor who haunts her mausoleum. Another eye-catching effect is four small ghosts that fly 14-feet high over the entire yard.  Other things vistors see are a weeping widow and a restless candle that floats mysteriously through the cemetery. David has quite a collection of homemade tombstones that are all hand-carved, including a new addition for 2023, a talking tombstone as a tribute to Paul Rubens and Pee Wee's Big Adventure.
"It's about the show and having fun. It's about entertaining and creating effects. It's thrilling to me to see people get a kick out of it", said David. His dedication to his craft and his ability to bring joy to his community during Halloween are truly something to celebrate.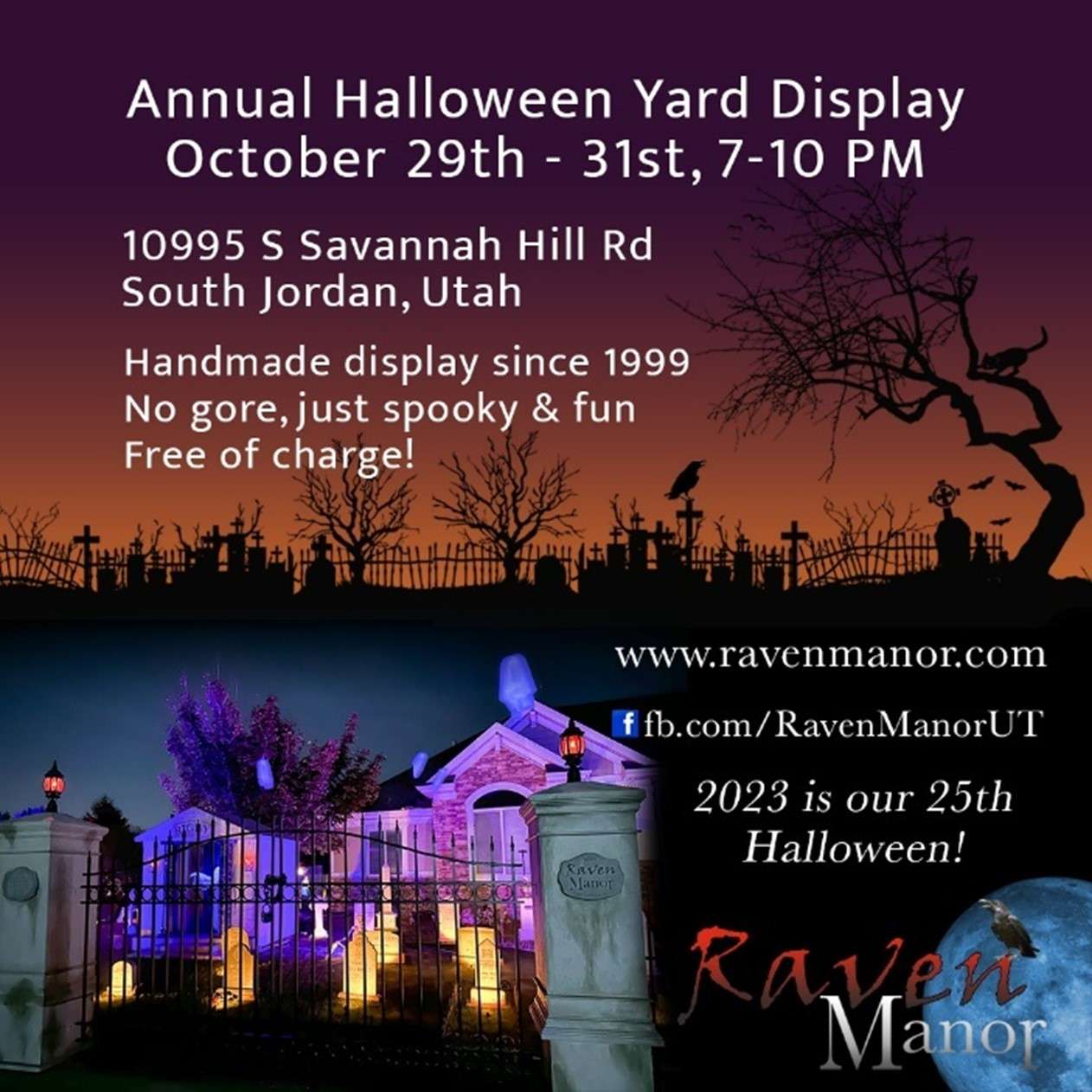 David's love of Halloween has been a lifelong passion, spanning back through the decades. It all started in the house he grew up in. Back then, he crafted cotton-ball and Kleenex tissue ghosts, spider webs and fake snakes and spiders. His first foray into "technical effects" came when he attached a cotton-ball/tissue ghost to a turntable, making it spin endlessly in the front window. As he grew older, his ambitions grew as well, and he started creating his own Halloween decorations for the front yard.
During his middle school years, David moved to a new home with a larger yard, perfect for his haunting ambitions. Alongside friends, he designed a winding path that led trick-or-treaters around the house. With audio and lighting effects under their control, they aimed to send shivers down the spines of their visitors. The yard boasted a cemetery of cardboard grave markers, scenes with pirates and treasure, a ghost on a rope and pulley that would fly at unsuspecting guests, and more. Their creativity knew no bounds, as they used motors from David's Milton Bradley Robotix set to bring some of the dummies to life. One standout scare tactic involved an impact sprinkler, strategically placed behind a plastic tarp, ready to startle visitors as it surged to life. This Halloween spook alley became a neighborhood legend, leaving an indelible mark on all who dared to traverse it.
Fast forward to 1997 when David and his wife moved into their own home. Two years later, in 1999, David's Halloween journey began anew. Inspired by his wife's suggestion, he resurrected his Halloween displays and rekindled his passion. With an arsenal of props that had stood the test of time, including a toe-pincher coffin made by his best friend's dad and grandfather, David breathed life into his yard once more. He created a grave digger and animated his head, leveraging motors he'd kept from his youth. Additionally, he crafted around 15 cardboard tombstones.
With each passing year, David's yard display grew in scale and creativity, thanks to his passion for Halloween and his willingness to push the boundaries of his imagination. It's a journey that has spanned three decades, leaving an indelible mark on the hearts of all who've been enchanted by his displays.
As the Halloween season arrives, one thing is certain: David's Raven Manor will continue to be a beacon of enchantment for his neighborhood, a testament to creativity, family-friendly entertainment, and the enduring allure of Halloween.
David's home is often featured in local news as one of Utah's best homemade haunts and is located at 10995 South Savannah Hill Rd. in South Jordan.  Remember this incredible display is only open three nights a year: October 29, 30, and 31 from 7-10 p.m. each night.